The 1878 Buffalo Bill Billboard is now on view to the general public in a new lounge located between Full Moon Rising Bakery and the theater entrance!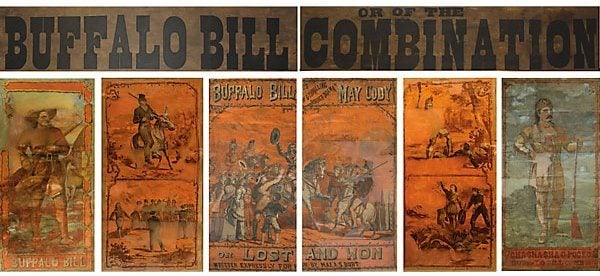 One of the oldest existing billboards in the United States is displayed here at Reg Lenna Center for The Arts! Originally pasted on an exterior building wall on Pine Street in 1878, this advertisement for a play about Buffalo Bill Cody was rediscovered in 2002 behind a crumbling wall. Quick thinking by Reg staff, led by Keith Schmidt, led to a preservation effort. Board members, Mike Flaxman and Pat Anzideo championed and saw through the restoration of the 6 panels measuring 24 feet by 6 feet together.
Read more about the discovery of the billboard and paper conservator, Laura Schell's work on bringing this piece of American history back to life by clicking here.
Archival video of restoration by Ed Tomassini.